A DJ can modify any song and turn it into a hip hop. Generally, in concerts, there is a high demand for a DJ. But the Hollywood industry has a few DJs who are knowledgeable at their job. Pauly D is one of them. From today's article, you will know Pauly D net worth and how he earns it from songs.
Who is Pauly D?
Pauly D is an American DJ. He is also a Television personality. He is well known for his cast on MTV's reality show "Jersey Shore." Pauly is the first person on "Jersey Shore"  who launched his TV reality show "The Pauly D Project" on MTV.
Short Bio Of Pauly D
| | |
| --- | --- |
| Full Name | Paul Michael DelVecchio Jr. |
| Birthdate | July 5, 1980 (age 43) |
| Birthplace |  Providence, Rhode Island, U.S. |
| Nationality | American |
| Height | 5' 10" (1.77 m) |
| Profession | Television personality, DJ |
| Genres | Dance |
| Labels | G-Note, G-Unit, EMI |
| Social Media |  Instagram, Twitter |
| Net Worth | $20 million |
Early Life
Pauly D was born in Providence. The DJ's father's name is Paul D. DelVecchio Sr., and his mother's is Donna DiCarlo. He has one sister named Vanessa. Pauly is an "Italian" descent. He started his career as a DJ in his locality. He got inspiration from "DJ AM" to start a career as a DJ.
In 2009, Pauly D appeared on MTV's "Jersey Shore" reality TV show. He never had to audition for it. The casting director likes Pauly D's look and takes his number. After six months, the director sent Pauly a message to confirm his show appearance. From here, his television journey started.
Pauly D net worth
Pauly D's net worth in 2023 is estimated at $20 million. In a very short time career, this net worth is massive. Starting a career as a TV personality helped him to gather much wealth at the early beginning. Later, being a DJ, publishing records, and doing concerts all significantly impacted his net worth.
Facts Behind Pauly D net worth
"Jersey Shore" TV Show
Pauly D made his first TV appearance on MTV's reality show "Jersey Shore."  He appeared on the first season of this show in December 2009. People started to love his character, and soon, he became a matter of discussion. His fame spread widely. Although it is not a complete income course, this show can be recognized as the foundation for his future net worth.
The Pauly D Project
Pauly D is the first person on the "Jersey Shore" show who started his own show on the same channel, MTV. When Pauly D's show "The Pauly D Project" launched, people became fans of it.
American News Magazine "Time" guesses that "The Pauly D Project" will get the spot, and this show became very popular for its filming method. This show focused on Pauly D's tour in America as a DJ.. Pauly D earns a lot of profit from this show. This undoubtedly boosts his career.
Television
Besides his show, Paul D also appears on many other shows such as "Double Shot at Love," "Famously Single," "Ridiculousness," "Game of Clones' and many more shows. Paul appears there as a guest, host, or as other casts. All of those shows pay for his every appearance.
Return to Jersey Shore
In 2018, Pauly D rejoined the show. He arrived on many episodes. That time, they set its venue in Miami and named it "Jersey Shore: Family Vacation." This show premiered globally in nearly around 180 countries. Thus, we can understand that it was a big budgeted show, and as a result, Paul D gets a high payment for his rejoining.
DJ Career
Pauly D's primary focus is on his DJ career. "Beat Dat Beat (It's Time To)" is Paul's first debut single song. This single became so popular that people started adopting his musical sense.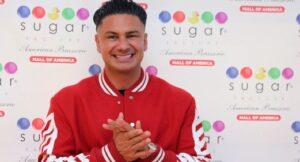 Pauly got many invitations from large shows, ceremonies, and award functions to join as a DJ. His schedule is full for attending the invitations. He recently performed in "Miami Beach, FL, US," "RYSE Nightclub, Saint Charles, MO, US," "Shift4 Arena, Arlington, TX, US," and many other places. All of these shows paid him a massive amount of money.
World Tour
As Paul D's popularity spread worldwide, he got invitations from many countries to join their concert, opening ceremonies, and festivals as a DJ. Recently, Paul D arrived in  "Alicante, Valencia, Spain," "Santos, Brazil," "Nicosia, Cyprus" and many more places from all over the world. Paul D charges a high-rated payment for his performance, which eventually raises his net worth.
Albums
Besides his DJ career, Paul D. also released albums. He released several albums from two record labels. Paul made the recording deal in 2011 with famous rapper "50 Cent's" for two record labels "Unit Records" and " G-Note Records." Later, Paul D released his albums, "Back to Love"  in 2012,  "Did You Know" in 2016, and "Silver & Gold" in 2019. All of these albums sold in millions of copies. Paul D generates a good amount of profit from those albums.
Awards
Teen Choice Awards
Choice TV: Male Reality Star
Personal Life
In 2023, Paul D. announced that he had a daughter in New Jersey. Her name is Amabella Sophia, and her mother's name is Amanda Markert.  Also, it is reported that Paul D is in a relationship with Nikki Hall since 2020.
FAQs
Who is Pauly D worth?
Paul D's net worth in 2023 is reported to be $20 million.
How much does Pauly D get paid?
Paul D makes $150,000 per Jersey Shore: Family Vacation.
How did Pauly D get so rich?
Paul D mainly got rich through his DJ career, where he made a massive world tour concert.
What cars does Pauly D have?
Paul D owns a Mercedes-Benz S-Class AMG and a 2008 Cadillac DTS.
Final Thoughts
Paul D net worth indicates his successful career from reality show star to show-stopper. His Television career and DJ career is mainly responsible for this financial state.