Are you someone who multitasks a lot? Android phones are great for multitasking, but switching between apps can be tedious. App switcher Android solves that issue. Let's look at the uses of app switchers, along with the eight best app switcher tools to use right now.
What Is an App Switcher Android?
An app switcher is exactly what it sounds like: It helps you switch apps. An app switcher is an app that shows all the recently opened apps, allowing you to move from one app to another with ease. It allows you to instantly go to an opened app or close it if you don't want to use it. App switchers are common in Windows and macOS systems, but they're also gaining popularity among Android users.
Why Should You Use an App Switcher Android?
The only reason to use an app switcher is convenience. Normally, if you want to open an app, you need to exit the app currently opened and then click on the other app's icon. This takes time. An app switcher eliminates this hassle. You can activate the app switcher and move from one app to another almost instantly.
App switchers are great for multitasking when you need to use multiple apps simultaneously. It helps you save time and thus, increases your productivity.
Best App Switcher Android to Use
Having discussed the use and benefits of app switchers, let's delve into the top eight app switcher apps you can use on your Android phone. Let's delve in.
LAS: Last App Switcher Android
LAS is an app switcher tool that lets you add swipe gestures to jump between apps. For instance, you can add a swipe-up gesture from the home key to go to the previous app. The app also supports a movable floating button that draws over other apps.
The key features of LAS are:
Movable floating button over apps
Switch between apps with a single click
Quick transition animations
No ads or hidden charges
Lynket Browser App Switcher Android
The next app on the list is Lynket Browser. It isn't essentially a traditional app switcher. Instead, it's a browser with floating and draw-over capabilities. You can minimize the browser to a movable floating icon. Use any app you want with the floating icon drawing over it. This way, you can use apps and browsers simultaneously.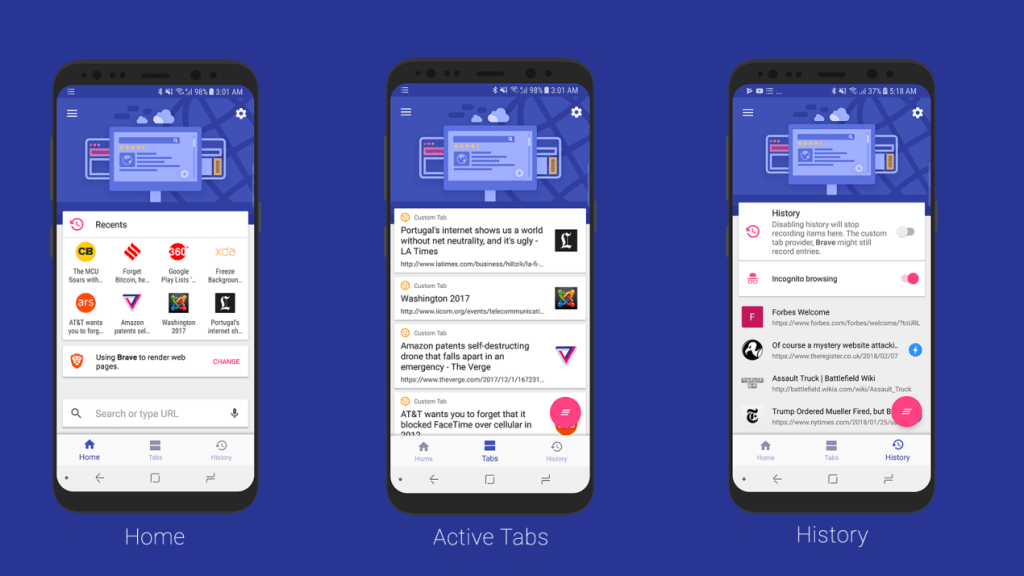 The key features of Lynket Browser are:
Use multiple browsers in a single browser
Draw over other apps using a floating window
Load AMP versions of websites
Minimize tabs and open them with a click
DIESEL
DIESEL is a fantastic app switcher Android that adds a notification menu at the right of your screen. You can keep your home screen clutter-free by accessing all your apps from the right menu. DIESEL also adds a sticky notification menu that lets you access all your apps. You can add the apps of your choice and open them directly from the notification menu.
The key features of DIESEL are:
Add a fully customizable notification menu for your apps
Blacklist unwanted apps
Simple UI and material design
Usage statistics and other advanced features
Floating Apps Free
One of the original multitasking apps out there, Floating Apps Free, is an app switcher that allows you to open multiple applications in a floating window and switch between them. So, you don't need to exit an app and open another app for multitasking. Floating Apps Free lets you do that instantly with a few clicks.
The key features of Floating Apps Free are:
Use essential apps like calculator and notes on the go
View multiple email attachments and PDF files at once
Open browser links over any app
Translate text without exiting the app
Edge Screen App Switcher Android
Edge Screen is another popular app switcher app that adds a menu panel to the edge of your phone screen. You can add your favorite apps in the panel to get quick access to them. Once added, you can open those apps in a single swipe. Edge Screen lets you create a virtual panel and add gestures for buttons like Power and Home.
The key features of Edge Screen are:
Add your most-used apps in an intuitive side panel
Toggling systems to browse through apps
Calendar and calculator feature
Support for Edge Music Player and File Explorer
Swiftly Launch App Switcher Android
Swiftly Launch is a multitasking app switcher for Android that lets you add a circular floating bar on your screen. The floating bar can draw over all apps, giving you multitasking capabilities. This app switching tool allows you to open your favorite apps with a single click. It also comes with some helpful features like swipe gestures and switching to recent apps.
The key features of Swiftly Launch are:
Recent and last apps switcher
Quick actions and swipe gestures
Grid and circle favorite apps
One-hand usability and amazing user experience
Easy App Switcher (EAS)
Easy App Switcher or EAS is an app switcher Android that lets you smoothly switch between multiple apps. It's one of the top-rated and easy-to-use app switchers out there. Like most apps on the list, EAS allows you to add a floating menu on the screen and add your favorite apps to it. You can switch between apps with a single tap.
The key features of EAS are:
Switch to previous apps with one click
Both floating button and trigger screen are available
Customize the actions of power, home, and back keys
Free app with no ads
Taskbar
Let's end this list with Taskbar, another popular app switcher for phones. It allows you to add a floating window on your mobile screen and access multiple apps in a floating window. You can also launch several apps at once in a single window.
Start menu to browse through all your apps
Recent apps tray to show your recent apps
Pin or block apps as per your requirements
Free and open-source with no ads
Wrap Up: App Switcher Android
App switchers are helpful applications that allow you to switch between multiple apps with a single tap or swipe. These apps are great for users who multitask a lot. You can try all the apps mentioned above and use the one you like the most. All apps are good and have exciting features.
So, which app will you choose?