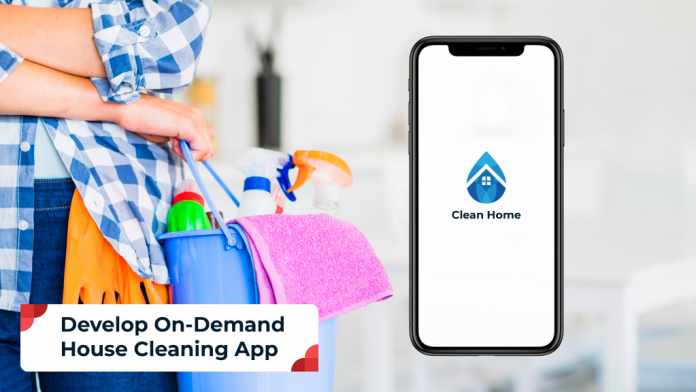 Introduction
Everyone likes to live in a mess-free house, but in today's life, things have changed. Now, most of the house members are working and nobody gets so much time to clean around every day. Sometimes it is also tiring to do house cleaning when you are already overburdened with office work. This problem is common mostly among the young parents who find it very difficult to manage the mess created by their children and the office work together. With technology improving every day, now this whole process has become much simpler. The working parents and housewives now need not to worry about their house cleaning since the house cleaning app and professionals are always ready with just one click in the app. 
Let's look at how to develop a successful on house cleaning app and the features to add to it:-
1. Make a user-friendly application 
People who are not that tech-savvy prefer applications that are user-friendly and easily accessible. But it is important to keep in mind the general public that the app so developed is easy to be used by everyone. The house cleaning application must be flexible and user-friendly. Options such as immediate booking, cancellation of booking, and rescheduling of time must be made available to the users. When an application is user-friendly, it will attract a huge number of customers.
Availability of different services
The house cleaning application is such an application that everyone would admire and everyone would use. The app can be used by housewives, students, professionals, and even offices and business hubs that need cleaning services. Therefore, it is important to cater to every need of the customer. The application must provide all relevant services to the customers like plumbing, bathroom cleaning, pest control, gardening, and similar services so that customers can find a one-stop solution that will help you to grow your business.
Safe and secure payment mode
When you book a house cleanings service, you need to have a safe and secure payment gateway. Normally, we pay our in cash to our domestic helpers are the amount is not that high but this should not be the case in on-demand house cleaning services. As far as possible online payment mode must be implemented where customers can safely make payments through online applications. Some of the safest and secure payment options are paytm, Google pay, and phone pay.
Set up a reasonable price structure
While developing your on-demand house cleaning application, one thing to keep in mind is to set the right prices for the services. The charges must not be too high or too low. It is important to note that after paying the cleaning staff you have a sufficient amount of profit in your hands to carry on the business. Also, the charges must be set at such a rate which attracts customers. Everyone wants quality services at reasonable prices.
Get a license for your cleaning business
In whichever state or region you are starting your service in, make sure to register your business name and get a license of that name for future use. There are any other state laws and other compliance that you need to follow if you are thinking of starting an on-demand house cleaning business. So, better do all the research about the license or consult experts.
Set up a well designed and smooth working application
Your on-demand house cleaning application must be designed to benefit the potential customers in every possible manner. For this, the application must be well planned and creatively designed with all the relevant features in it. There must be a specific section for different kinds of services for users' ease. The name and information of the cleaners along with their identity proof must be uploaded on the application to gain trust of the users.
Do all the legal tasks
When the company's business, services, advertising system, the objective has been arranged in the agenda, it's an ideal opportunity to begin making a move to build up and start your own cleaning business. 
This stage includes enlisting the company and dealing with each and every legal compliance needed to begin and work in a specific area or place. Remember that completing all the legitimate legal work is critical to ensure that your business is made preparations for some lawful issues that may emerge later on.
Perform marketing and promotion activities
Advertising is the main thing through which one can foster one's business. Through online advertising and promotion through ads or social media platforms, one can gain a large amount of crowd. Also, online commercials are exceptionally powerful when potential customers use the internet.
Website promotion is advantageous for the company to get more clients, and good commercials will appear all the more often if their inquiries online are identified with it. These advertisements are an extraordinary method to support your newly opened on-demand online cleaning business. It helps to enhance the customer reach and create brand awareness.
9.Invest in hardware and other things
While building up your on-demand cleaning business, it's an ideal opportunity to begin putting resources into cleaning business gear and that will cut the time spent cleaning a customer's space drastically.
Significant cleaning appliances that for the most part require an incredible vacuum cleaner, mops, microfiber cleaning cloths, steam cleaner, and such items.
Don't forget about the Office area
When the company and its business have extended, and more employees are working for the company, it's an ideal opportunity to get a retail space for the company. This would guarantee that representatives have a space to work in when they are not working with the customers. Also, the customers know the point of contact in need. It helps to build trust among potential customers.
It is important to open your office in such an area where there are mostly working people or aged people. This assists with getting seen by potential clients who are strolling or driving across your company consistently. They will explore more about the company, avail its services, and thus better profits.
Give more importance to your specialty
After you have gained some good number of customers, and your employees have become efficient in their work, it's time you step your path into speciality work. Be it bathroom cleaning, rugs or carpet cleaning or simply anything g in which your employees are most efficient. 
People usually prefer specialists so that their time is saved. They do not need to micromanage cleaners. So, when you highlight your speciality, there are more possibilities that your potential customers avail services from you only.
Conclusion
The whole world is running towards online technology. Now office going professionals and other people do not have to worry about cleaning their house. Gone are the days when people used to worry about how to get a cleaner or domestic help. After long hours at the workplace, you can relax and breathe fresh air in your clean home.
This was all about how you can set up your on demand house cleaning business. By following the above points, you can successfully develop an on-demand cleaning business. For more information, you can peak at this website offering a demand house cleaning app development.
Incoming search terms: