Steam is the ultimate stop for discussing, playing, and creating games. It is a game developer by Valve. It has got nearly 30k games from AAA to indie. Steam is a fair and safe game digital distribution website. As you read, you need to purchase games here; the situation may arrive where you did not like the game or purchased it by mistake and now need a refund. To know more about steps to refund Steam games, read below.
Refund Steam Games
A refund request in Steam is possible for nearly any type of purchase and any reason on Steam. Your PC might not meet the hardware requirements, or you purchased the game by mistake, or you played the game for an hour but did not enjoy playing it.
Your reason does not matter much. Upon requesting refund Steam games via help.steampowered.com, you can issue a refund for any personal reason, if your return period is not over yet or in case of games, the title has not been played for more than 2 hours. There are more reasons and criteria listed below. Even if you do not fall under these categories, you can still request a refund. They will look into the matter and let you know.
Within a week of the refund's approval, a full refund of your purchase will be issued by you. Users generally receive their refund in their Steam Wallet funds or the same payment method the purchase was made. If the refund through your initial paying method is not taking place by chance, Steam will make sure you get your full refund in your Steam wallet. The refund in the original payment method also depends on the country you are in.
Where are the refunds applied?
The refund Steam Games can only occur when you request a refund within 2 weeks of its purchase or 2 hours of playtime. This works for software applications and games on the Steam store. Given below is an overview of how the refund system works for other types of purchases.
Refundable on downloadable content
DLC that is purchased from the Steam is refundable within 14 days of its purchase. If the underlying title has been played for less than 2 hours from when the DLC was purchased and DLC has not been modified, consumed, or transferred, it is refundable. Please note that in some cases, Steam shall be unable to present refunds for a few third parties DLC (for example, if the DLC irreversibly levels up a game character). These exceptions will be virtually marked as non-refundable on the store web page earlier i.e., before purchase.
Refunds on in-game purchases
Steam can supply a refund for in-game purchases inside any Valve-developed games by 48 Hours of purchase until and unless the game is not consumed, modified, or transferred. The third-party buyer will only be able to have the option of enabling refunds for in-games by following these terms and services.
You can check in Steam whether the game developer has given the offer refunds on the particular in-games product at the time of your purchase. Or else, the in-game purchases in non-Valve games are not refundable through Steam.
Refunds on pre-purchased titles
If you pre-purchase a certain title on Steam i.e., you have paid for the title in advance; you have the option of asking for a refund anytime before the release date of the title. The standard fourteen days period and 2 hour refund period are also applied here starting from the game's release date.
Steam wallet refund
Users can also request a refund for Steam Wallet funds. This refund is approved only if the refund is requested within 14 days of purchase and id it was purchased on Steam keeping the fact in mind that they are unused funds.
Steam hardware
Within the relevant period regarded inside the Hardware Refund Policy, you can request a refund for Steam hardware and accessories purchased via Steam for any reason. You have to ship the hardware back to the USA by the fourteen days once requesting the refund, following the directions Steam offers you. Please see the Hardware Refund Policy for careful pointers on the Steam hardware and accessories' return and cancellation method.
Refunds on Bundles
Refunds on bundles are possible on the Steam Store. For this, you have to follow certain rules. For the refund to be approved, none of the bundle items should be transferred, and the total usage time for all items belonging to the bundle is less than 120 minutes. A bundle may contain an in-game item or DLC that is not refundable; Steam will confirm you while checking out if the whole bundle is refundable or not.
Is a refund possible for outside Steam purchases?
No, Valve will not provide refunds for purchases made outside of Steam. For example, Steam Wallet cards or CD keys that are purchased from third parties.
VAC Bans
If someone is banned by the Valve Anti-Cheat system i.e. VAC, they will lose the right to refund that game.
Video contents
Steam does not offer refunds for video content on Steam. Video contents like movies, series, shorts, episodes, or tutorials, until and unless they are in a bundle with other (non-video) refundable items.
Refunds on gifts
Unredeemed gifts are also refunded inside the period of 14-days or two-hour refund. Saved gifts are also refunded beneath the conditions that if the gift recipient initiates the refund. Funds used for purchasing the gift are going to be returned to the original buyer.
EU right of withdrawal
For how the EU right of withdrawal works for Steam customers, visit the Steam site.
ABUSE
Refunds are designed to get rid of the chance of purchasing titles on Steam—not as a way to induce free games. If it seems to the USA that you just are abusing refunds, they tend to stop giving them to you. Steam does not consider it abuses to request a refund on a title that was purchased simply before a sale and so straightaway re-buying that title in the sale.
How to request a refund?
To request refund Steam games, visit help.steampowered.com. Valve will issue a refund for any title if it is asked for 14 days of its purchase and has not been played for 2 hours or more. The user might fall outside the refund criteria. Valve still asks its users to submit a request with the reasons; they will try taking it under consideration.
Follow these steps to refund Steam games
Go to Steam help (help.steampowered.com) and log in using your Steam account.

After successful login, click on A Purchase.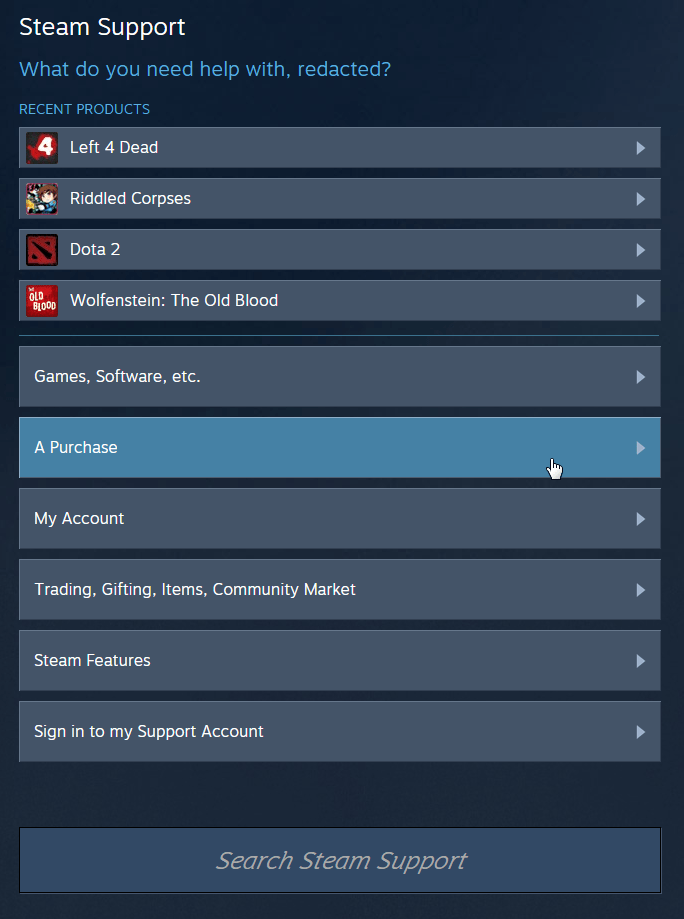 Now find the purchase you want to have refunded. Click on it. If you find your buy not on the list, your purchase is far outside the refund window and is not eligible for a refund.
Now select the type of problem you are having with the product.
Now click on I'd like to request a refund.
Fill in the refund form and submit it. Do not forget to choose your type of refund if you want to have the Steam Wallet amount or by the original purchase method.
After completing all the above steps successfully, you will receive a confirmation mail saying your refund request is successfully submitted.
Common questions
How to request a refund?
Help.steampowered.com handles all the refund requests.
Where is my refund?
An approved refund may take up to 7 days or more to reflect in your account. International payments refund takes a longer period. If you see it is taking longer than usual, please contact your bank directly and question pending refunds.
Keep in mind if a refund request gets approved within 24 hours of its purchase, the original transaction automatically gets canceled and the charge will drop from your bank statement. If this happens, there will be no credit shown on your bank account.
Why can't I refund my old purchase?
If a purchase crosses the 14 day refund period, the purchase remains no longer eligible for a refund request.
My refund request was denied. Can I contest this decision?
Some errors might occur while handling your refund inquiry. In this case, you need to submit another response at help.steampowered.com. A Valve employee will soon view the refund request.
I bought a game right before it went on sale. Can I get a refund and repurchase it at the sale price?
Yes, but before that check, if the purchase is eligible. Also, please note your refund request might take seven days to get approved.
Is there a limit to how many purchases I can request a refund for?
You can submit multiple refund requests for every eligible order. But if the service finds you are abusing its refund system, they may revoke your access to refund in the future.
If I refund a game, will my playtime and achievements be removed from my Steam Community Profile?
Steam Community Profile never removes your playtime and achievements. Check out more about this on Steam Profile Privacy.
Refunding in Steam is not a big deal nowadays. Following all the steps mentioned above and criteria, you can quickly refund Steam games any time you wish to.