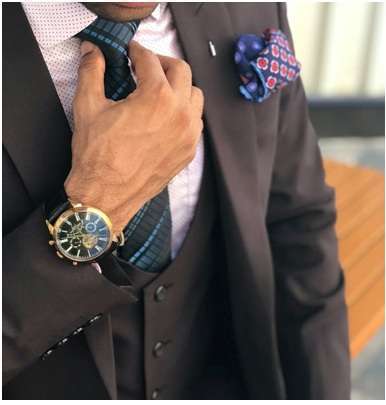 Your first impression is your last impression. While most people may disagree with the statement, there is no denying the fact that your dress codes play a significant role in setting an impression on others.
Many people argue that your dressing plays little to no role in establishing your authority as a professional when it comes to workplace attire. It is, in fact, your performance at work that speaks for you. Well, in reality, both are equally as important.
Your dress codes have evolved. Earlier, professional wear was strictly formal. There were rules to follow, and steering away from them was not appreciated. Things, however, are progressing towards less traditional styles.
Did you know that only 4% of employers make their employees wear suits and ties to work? As per the results of a 2017 study by Robert Half Finance & Accounting,a mere one-quarter of organizations require their personnel to dress formally for work.
Regardless of how things operate at your workplace, it is crucial to get the basics of office etiquetteright. The following is a list of 8 tips to help your dress codes for success in the workplace.
Seek inspiration from your favorites
When it comes to formal and professional dressing, most of us are clueless beyond the basics. Sure, you know you have to wear a suit and maybe a tie, but how do you learn how to style different suit styles with shirts and complementing accessories? Well, it is simple: just seek inspiration from random external sources.
Pinterest, Instagram, a fashion magazine, or a character from your favorite TV show, there is inspiration all around you; you just have to look out for it. We suggest doing some research, educating yourself about the basics, and then working your way up by experimenting with different pairings. Trust us; it really is not that hard.
Moreover, accustom yourself to the workings of your individual workplace. Every office follows its own dress code. Some keep it strictly formal, whereas others allow a semi-formal approach to workwear as well. Observe the trend and dress accordingly to gel with the rest of the crowd.
Pick the right colors
Colors play an integral role in determining your impression of others. They communicate a message and make a substantial impact on others about your sense of styling and taste. Thus, your ability to mix and match them in accordance with the rules of the workplace makes an impression unlike any other.
In the workplace, we recommend working with a darker color palette. Colors like black, charcoal grey and navy exude a strong yet grounded aura. They reflect confidence, knowledge, and responsibility, all of which are essential attributes in a professional setting.
Pair your darker tones with lighter hues as they denote formality, sophistication, and professionalism. Shades of white and pastels are your most accessible and most versatile bet.
Find a style that flatters you
Have you ever come across the term 'power dressing'? Power dressing is all about dressing in a way to assert power on others. For instance, a suit is the ultimate power outfit. It is chic and formal yet simple and effortless. Its fit, cuts, and overall style scream authority and professionalism. Needless to say, suits are a universal statement.
If you want to dress for success, it is essential to find a style that vibes with your persona and flatters you. For some, it may be a suit, whereas, for others, it may be a pair of chinos, a button-down shirt, and a waistcoat. Find your perfect flattering fit.
Get the fit right
Your clothes should fit you like a glove, period. Whether it is casual wear, workwear, or formal wear, your clothes should fit you perfectly because they can make or break your look.
An ill-fitting pair of pants, a droopy blazer, a shirt with sleeves longer than your arms; does that sound even remotely flattering to you? An ill-fitting ensemble gives off a sloppy and careless aura. It does not matter how fantastic you are at your job; if you cannot pay attention to how you present yourself in the workplace, people will think of you as a shabby person.
Therefore, make sure that your dress codes fit you well. Most of us cannot afford custom-tailored clothing. However, we can surely get our clothes altered to size. Getting your clothes altered will not cost you a fortune, but it will make a world of difference in your outlook.
It does not matter if your clothes are off the racks of a high street label or something you snagged at a two-for-the-price-of-one deal; if it fits you well, it is a winner.
Dress for the occasion
An essential part of nailing the workplace dress code is dressing for the occasion.
Wear a suit if you have an important meeting to attend. If you have to attend a company lunch, ditch the suit and trade it for a pair of relaxed trousers, a button-down shirt, and a casual blazer. If it is a black-tie event, you know you have to put on a tux.
There is a time and place for everything, yes? Understanding what clothes go for what occasion speaks a lot about your accuracy of judgment. Therefore, being appropriately dressed is super important if you look to make a good impression on your seniors.
­­Maintain cleanliness
Cleanliness must be a priority at all times. Hygiene is essential for more than one reason. Make it a point to shower daily because the last thing you need in your life is to be a sloppy, smelly employee.
An essential part of hygiene and cleanliness is underwear. Your underwear is a part of your ensemble, do not think of it as anything less important than your clothes or shoes.
Change your underwear regularly. Moreover, make sure that it is comfortable. Uncomfortable undies are just so tough to deal with. You do not want to be caught trying to fix your underwear by a colleague. Invest in good, lightweight MyPakage boxers as they guarantee comfort and hygiene.
Maintaining a clean and tidy aesthetic alwayssets a good impression in the office.Never skip out on it.
Pay attention to the details
When it comes to curating the perfect ensemble, you have to pay attention to everything. You have the main components of your outfit to worry about, such as your clothes, obviously. However, we often tend to skip the seemingly insignificant details in attempts to make sure that our outfit is flawless. Details like accessories, grooming, and cleanliness often go by unnoticed.
If you are looking to make a good professional impression in the workplace, you must pay attention to all the details; everything must be perfect.
Your clothes should be neatly ironed and stain free. Make sure they do not smell bad. Your accessories should match your ensemble and should ideally be kept minimal. Your belt and shoes should match and complement your overall look.
Make sure your beard is trimmed, and your hair is styled properly. No workplace appreciates a bedhead. Trim and clean your nails. Be sure to spray on your favorite perfume because it is important to smell pleasant. Body odor is a huge turnoff but tries not to drench yourself in perfume. Strong scents can also get quite overbearing and unpleasant.
Wear the right shoes
Finally, make sure that you are wearing the right pair of shoes. Your shoes are an integral part of your work ensemble. They can make or break your entire outlook in a heartbeat. You must have heard the saying, 'Good shoes take you to good places.' The right pair of shoes can lead you to your dream destination.
In the workplace, the right pair of shoes can set a perfect impression. If you are on the search for good work shoes, try your luck with classics like oxfords, brogues, or monk shoes and contemporary designs like chukka or Chelsea boots. Make sure they are sleek, comfortable, chic, and versatile so you can sport them with an array of outfits.
Professional dress codes are more important than you think. You reflect the image of your workplace. You have to embody your office's aesthetic and translate it into your style.
Want to dress for success? Make your dress codes for a job that you aspire to have. After all, when you dress the part, you play the part.