Tattoos are more than just a style statement. They speak a lot about personality and who you are as a person. That's why many people have "get a tattoo" on their bucket list. However, not many people want to get a permanent tattoo, and they want to know how to make temporary tattoos. If you're one of them, here's all you need to know about making temporary tattoos. Today, we'll discuss some helpful methods to create temporary tattoos without any specialized equipment.
How to Make Temporary Tattoos Using Printed Paper?
The first method to make temporary tattoos is to print them on your skin. For this method, you need the following items:
A printer
A water slide paper
A design
Please note that a water slide paper is essential here. You can't print a tattoo on regular paper. You can find water slide paper in any stationery shop. If not, you can find it online. Once you have the needed items, pull up the desired tattoo design on your computer or PC and print it on the water slide paper. Cut out the design from the paper, and ensure that you don't cut too close to the tattoo. If you cut too close, you may disturb the tattoo's outline.
Now, apply the designed paper on your skin and press it firmly into your skin. Now, take a cotton ball, dampen it, and apply it to the paper for a few seconds. During this procedure, the paper may slide off, transferring the design to the skin. Once the design reflects on the skin, tap dry the tattooed area using a dry cotton ball or paper ball. That's it. You have your temporary tattoo. It should last for four to five days, but it could last up to seven days, depending on how well you have applied it. Usually, it will fade away on its own. If it doesn't, you can scrub some oil or alcohol on the area to remove it.
Sharpie Tattoos
Sharpie tattoos are another type of temporary tattoos best suited for kids. A sharpie of any color is all you need to create a sharpie tattoo. You'll find it at any nearby stationery shop.
Once you have the sharpie, you can unleash the artist within you and start creating amazing designs. However, it'll be great if you have some alcohol wipes, liquid bandages, and baby powder. Also, please have a design in mind. You really don't want to mess up the design on your hand and then spend hours erasing it. Not only will you waste time, but you'll also irritate your skin. If you don't have a design in mind, pull up a design on your phone or computer screen and draw it as a tattoo.
When creating a sharpie tattoo, you need to first clean the tattoo area with alcohol wipes and let it dry. It'd be great to wax or shave that area, as tattoos last long on smooth and hairless skin. Once the area is ready, put some baby powder to make the sharpie stay in place. Now, pull out your sharpie and draw the design of your choice. Once your design is complete, let it dry completely. Your tattoo is ready! It'll last for three to four days. If you want to remove it earlier, you can use some soap solution and scrub it off your skin.
Eyeliner/Marker Tattoos
The third type of temporary tattoo is the eyeliner tattoo, and it's ideal for women (because generally, they own an eyeliner). You may not have realized, but your eyeliner can do more than give a gorgeous look to your eyes. You can use it to make temporary tattoos on your skin.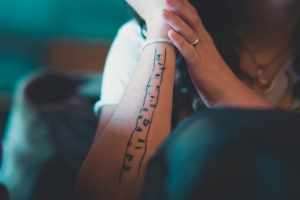 An enormous benefit of using this method to make temporary tattoos is that you need nothing apart from eyeliner. Alcohol wipes and baby powder can help, but they're not a must-have. However, you'll need to buy a new eyeliner. You shouldn't use the one you use on your face. Also, avoid getting a liquid eyeliner as drawing intricate details will be difficult using it. Finalize a design before proceeding.
As discussed, you can either have a vague idea in your mind about what you want to draw or pull up a design on your phone or computer screen. Clean and dry the area of the skin where you want to draw the tattoo. Now, draw the design using eyeliner. Once complete, let it dry. That's it. Your temporary tattoo is ready, and it'll last for two to four days. However, if you expose it to water, it'll wash away. If you want to remove the tattoo, you can wash it off using lukewarm water and soap.
How to Make Temporary Tattoos with a Permanent Marker?
The final method to create a temporary tattoo is by drawing it on your skin using a permanent marker. We've all done this when we were kids, right? We wrote names or created funny drawings on your skin using markers or sketch pens. You need to do the same here, but this time, in a much more planned manner. The items you need are the same as in the previous step. You need a permanent marker (or markers if you want a multi-color tattoo) and alcohol wipes to clean the area.
The process is the exact same as it was in the eyeliner tattoo. You need to find a design and then draw it on your skin. Here's a pro tip. If you're not good at drawing, you can print the design on paper and cut it out. Now, place the remaining paper on your skin with the cut-out area right at your desired tattoo destination. Fill the vacant space with permanent marker ink. Your tattoo is ready.
Conclusion: How to Make Permanent Tattoos?
There are many benefits of getting a temporary tattoo. You can try as many tattoos as you want without committing to a single design. It can also be useful if you want to get a permanent tattoo but are unsure which design is right for you. In those cases, you can have a temporary tattoo for a while, and if you like it, you can make it permanent.