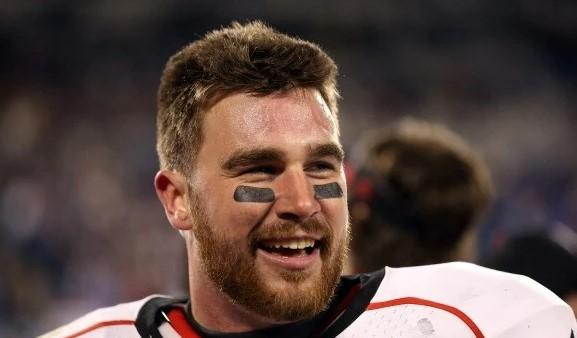 Travis Kelce is one of the most well-known names in pro football. Kelce has had a great career in the National Football League (NFL) thanks to his excellent skills as a tight end. But his impact goes far beyond the game field. Kelce is popular and successful because of his personality and skills. Travis Kelce impact extends beyond his wealth when people discuss his net worth. Kelce's story highlights the significance of working hard, being dedicated, and seizing opportunities.
Travis Kelce Net Worth
After ten years in the NFL, Travis Kelce is estimated to have a net worth of $20 million. His career earnings from contracts amount to close to $150 million. Kelce signed a five-year, $57 million agreement with the Kansas City Chiefs in 2020, keeping him in the organization until 2026. About $22.75 million is guaranteed; on average, he makes over $14 million yearly.
Kelce's signing bonus was $703,304, and his first deal was just $3.12 million when he joined the NFL in 2013. He was given a five-year, $46 million contract extension in 2016. Kelce's huge brand sponsorships have also helped his bank account, which has led to a steady increase in his wealth.
Early Life
Travis Michael Kelce was born in Westlake, Ohio, on October 5, 1989. He attended Cleveland Heights High School and played football, basketball, and baseball.
He was such a standout quarterback for the Tigers that they awarded him three varsity letters. In his senior year, he put on a show of ability that few saw coming, gaining 2,539 yards of offense. They recognized him for his efforts and named him to the Lake Erie League's Honor Roll. Kelce's talents were obvious even as a two-star recruit after graduating high school.
Career
Travis Kelce followed his brother to the University of Cincinnati to play football. He didn't play in 2008 since he was a redshirt freshman, but in 2009 he had eight carries for 47 yards and two scores. However, authorities banned him for the entire season in 2010 after he failed a drug test. 2011 Kelce returned and had a fantastic season, hitting career highs with 45 catches and 722 receiving yards. He received many honors for his remarkable play, including the "College Football Performance Awards" and the "Tight End of the Year Award."
The Kansas City Chiefs picked Kelce in the third round of the 2013 NFL Draft. Due to knee surgery, his rookie year was cut short, and he was placed on injured reserve. In 2014, Kelce staged a significant recovery, finishing with a touchdown and 100+ receiving yards in a game for the first time in his NFL career. After the season, he had 862 yards receiving, making him the Chiefs' top receiver. Kelce got off to a good start in 2015, scoring in his first game and helping the Chiefs win. The squad had an 11-5 record during the regular season. However, the New England Patriots eliminated them in the Divisional Round.
Kelce recorded 85 receptions for 1,125 yards in 2016, surpassing his previous high. The Chiefs won the AFC West with 12-4. Pittsburgh defeated them in the Divisional Round. Kelce has eight receiving touchdowns and 1,038 receiving yards in 2017. Kelce had a concussion in the first half and couldn't complete the game. This resulted in the Chiefs' Wild Card Round defeat to the Tennessee Titans. He recovered and helped the Chiefs win the AFC West in 2018. AFC Championship Game loss against Patriots.
Travis Kelce's Career Continues
Kelce had a remarkable 2019 season. He became the fastest NFL tight end to achieve 500 receptions against the Chicago Bears. He became the first NFL tight end with four seasons of 1,000 receiving yards at season's end. The Chiefs had a great playoff run, defeating the Patriots in the AFC title game and the 49ers in Super Bowl LIV. The following year, they returned to the Super Bowl, but this time the Tampa Bay Buccaneers defeated them.
In 2021, Kelce set many records, including the tightest end season with 1,000 yards. He became the first tight end to reach 9,000 yards in the regular season finale. After a great playoff run, the Chiefs played the Bengals in the AFC Championship Game. Kelce's team reached Super Bowl LVII in 2022, losing to the Philadelphia Eagles. Eagles player Jason Kelce competed in the Super Bowl with his brother. The Chiefs won 38–35.
Travis Kelce is well-known in the public for reasons other than his football career. In 2016, E!'s reality dating program "Catching Kelce" made him a celebrity. Even though he picked Maya Benberry as the program winner, he and Maya eventually split up in early 2017.
After the 2023 season, Kelce's team won Super Bowl LVII. He was asked to host an episode of "Saturday Night Live." It was a big deal for Kelce, and his brother Jason even made a surprise visit on the broadcast to add to the excitement. Media engagements have expanded Kelce's public profile and shown his abilities beyond sports.
Personal Life
Kelce's potential love interests have mentioned several ladies. He was involved with Kayla Nicole from 2017 until they broke up, and she was his most recent girlfriend. Despite speculation that Kelce is dating Zuri Hall, he is now unmarried. Many people have speculated about it, but Travis and Zuri have not confirmed it yet.
Kelce's involvement in the community is as significant to him as his personal life. In 2015, he founded the nonprofit organization "Eighty-Seven & Running". This group primarily aims to help underprivileged youth with mentorship, education, and employment. Kelce's compassion for poor youngsters shows his willingness to help others.
Properties and Cars
Travis Kelce's Kansas City apartment complex has a rooftop pool, a gym, and plush seating areas near the fireplace. Soon after signing with the organization, he invested in this stunning 25-story home. This fantastic house, which spans 10,000 square feet, costs $995,000.
Some claim Kelce owns a gorgeous, $297,775 Aston Martin Vanquish. He increased his collection with a Mini Hardtop for $24,250.
FAQs
What are some of Travis Kelce's most lucrative contracts? 
Travis Kelce signed a five-year, $57 million contract with the Kansas City Chiefs in 2020. About $22.75 million in profit is assured by this arrangement.
Does Travis Kelce make money in other ways outside football? 
Travis Kelce has been in the media and done charitable work through his foundation, which aids underprivileged children.
What is the name of Travis Kelce's nonprofit organization, and what does it do? 
Eighty-Seven & Running is the name of Travis Kelce's nonprofit organization. The goal of the group is to help poor children grow through guidance and education.
Final thoughts
Travis Kelce net worth shows his commitment to excellence and achieving greatness, not just making money. Kelce has inspired ambitious sportspeople and others from humble origins to NFL stardom. His net worth symbolizes years of training, conquering challenges, and pushing limits. Travis Kelce inspires people to dream big, work hard, and take advantage of life's opportunities outside of football. Travis Kelce inspires people to dream big, work hard, and take advantage of life's opportunities outside of football. Kelce's net worth goes beyond his wealth due to his infectious passion, extraordinary talent, and kindness.